Toddler Meals Reinvented
Bigger Flavours, Better Textures, Bolder Ingredients
Big flavours aren't just for grown ups. We've created five brand new nutritious and irresistably tasty meals that your little ones actually want to eat!
New On The Menu
New Toddler Meal Bundles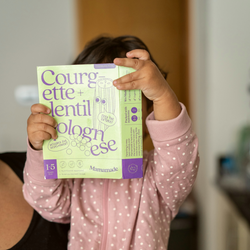 Very grateful for Mamamade and how much easier they make the weaning process. With their nutrient packed meals that are free-from most major allergens, I don't have to think twice about what to serve Sahi on those days where I've not managed to whip up something myself.
@_kavya_ on Instagram
Trying to feed 3 little mouths is never easy, especially when they all have their own likes and dislikes…we have been using Mamamade to help provide easy, healthy, quick options to our meal times. 
@mummykim_ on Instagram
They make weekday meals a breeze after long days at work and nursery.

Eva's working her way through them at the moment. Her favourite so far is the Courgette Lentil Bolognese and Cauliflower Coconut Curry. 
@thelittlelifelately on Instagram
From vitamin-packed veg penne to super-healthy sweet potato + pinto bean chilli, our new range for ages 1-5 combines huge flavour with toddler-acceptable textures. Meals that little ones will love - without even realising how nutritionally-dense they are
Cauliflower + Coconut Curry
They say variety is the spice of life, and we couldn't agree more! Our Cauliflower + Coconut curry may be mildly spiced for little palates but there is nothing mild about these ingredients.
Mac + 'cheese'
A healthy take on the indulgent American classic, a nod to our founder's roots! Dairy-free and CMPA-friendly!
Contains gluten.
7 Veg Penne
Our newest pasta dish contains all of the veg, but none of the negative energy from fussy eaters. 7 different veggies are hidden so masterfully a chameleon would be jealous.
Contains gluten.
Courgette + Lentil Bolognese
Ciao… little foodies! This is not your average bolognese! Our veggie adaptation of this family classic is packed full of iron, Vitamin A and Vitamin C.
Contains gluten.
Sub-heading
Sweet Potato + Pinto Bean Chilli
Beans, beans… this Sweet Potato + Pinto Bean Chilli is good for way more than just your little one's heart.
Delivered Frozen to Your Door.
A parent's checklist is long enough. This is why we're here to support you and your family with nutritious, organic and plant-based (naturally free from most major allergens!) meals and snacks delivered frozen to your door.
We handle the rest; all you have to do is pop the meals straight in your freezer, and heat them up when needed. Mealtime ready in minutes!
Frequently
asked questions